Navbharat Times Newspaper Ad Options
No.1 Hindi newspaper in Delhi & Mumbai

4.23L Circulation
19.7L Readers
Credible Newspaper
No.1 Hindi newspaper in Delhi & Mumbai

4.23L Circulation
19.7L Readers
Credible Newspaper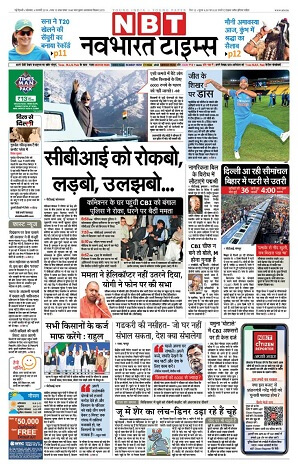 Category :
Main Newspaper
Publishing Day :
All Days
Navbharat Times is the largest Hindi Daily in Delhi and Bombay. It is published by Bennett, Coleman & Co. Ltd., the largest media group. Book classifieds in Navbharat Times since this newspaper has vast readership in metro cities like Mumbai & Delhi.
---
CLASSIFIED
---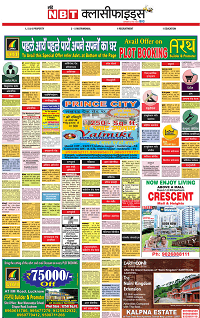 Category :
Classifieds Supplement
Publishing Day :
All Days
Navbharat Times Classified Ads is cost effective and ideal platform to advertise on for Matrimonial,Property,Obituary, Recruitment, Education,etc type customers. Ad cost is calculated based on the number of lines used.
Category :
Appointment
Publishing Day :
All Days
Category :
Property
Publishing Day :
Saturday
One of the best solutions for property ads! Rent, sale or buy property! Advertise with NBT Property!!
Category :
Business
Publishing Day :
All Days
Publish all your Business related Ads and Tender Ads any day through the Navbharat Times, Display ads section for business ads named Business By Bids!! Prosper and expand through advertisement through the most widely circulated Business pullout!!
Category :
Obituary/ Remembrance
Publishing Day :
All Days
Category :
Tenders
Publishing Day :
All Days
Category :
Public Notice
Publishing Day :
All Days
F.A.Q
Frequently Asked Questions
There are different factors that contribute to the cost of booking an ad in Navbharat Times. The cost differs in terms of ad format you choose, the category of your choice and the number of editions you choose to publish. Classified text ads are charged per line whereas the display ads are charged on the basis of per square metre. Again the cost varies depending on the selection of page for a display ad. The advertising cost for Front Page, BackPage or Page3 is much more compared to other pages. To know more about the cost click on the link
here
.
Getting your ad published in Navbharat Times through our website is very quick and simple. Follow the steps below: Visit Navbharat Times page on our website. Select an appropriate category under which you want your ad to be published. It could be matrimonial,property, recruitment,business,obituary etc to name a few. Select a suitable ad format and location of your choice. Compose your ad by filling all the relevant details. Finally complete the booking process by selecting dates and making the payment. You can avail Multiple payment options that include credit cards, debit cards, net banking etc. All these payments are SSL encrypted and therefore completely secure. You can also pay offline via cheque or cash. On successful completion of your booking process an auto generated invoice is sent to your email-id confirming the Navbharat Times advertising details. Post editorial approval your ad gets published on the selected dates.
There are different advertising options available in newspaper You can book your ad under three Ad Formats: Classified Text- The text ads in newspapers are one of the most cost-effective option and are charged on the basis of words/lines or characters. The minimum charge for running an ad depends on the choice of edition. You can also use enhancements to your text ads by using color background,tick mark & border. Classified Display- Classified is another option that is a little expensive as they have a better visual representation. The ad format lets you insert logos and images in the ad content. They appear in columns and are charged per square centimeter. Display- Display ads have a higher visual impact in the minds of the readers. It offers more options in terms of ad sizes. You can select quarter page,half page, vertical or horizontal & front or back page depending on your budget.
The ad rates differ on the basis of the ad format, location and category you choose. Post selecting the category a complete list of ad rates appear based on the different locations and packages for classified text and display format. To know more click on the Ad Rates to have a detailed view of the cost of publishing it in different editions.
Newspaper advertisements can be designed under three different formats Classified Text Classified Display Display Classified Text Ad- Classified text is one of the simplest forms of ad which is designed by composing the ad in simple words. There is a word limit set for every category. Exceeding the limit will cost you for every additional word.You also choose to make your ad more impactful by choosing ad enhancements like color, background and tick. Classified Display- With classified display you can design your ad by inserting logos and pictures to make your ad visually attractive. You can select a single column or multi-column depending on the ad size you wish your ad to be published. These are charged on the basis of per square centimeters. You can select any pre-designed template to compose your ad. Our platform also offers the opportunity to upload your designed ad by choosing the file,selecting the ad size and color. Display Ad- Display ads gives you the freedom to publish your ad on any page of the newspaper. You can create an ad by selecting a predesigned template,upload your existing design. You can also take creative help from a team of expert if you are struggling to design your ad.
Reasons
Why advertise in Navbharat Times ?
Founded in 1947, the year our country became independent, Navbharat Times is still a force to be reckoned with in the print journalism industry. There are several reasons why booking your newspaper display ads on Navbharat Times is a great idea, namely:
Navbharat Times is the most widely circulated and most extensively read newspaper in Mumbai and Delhi.
Navbharat Times is an excellent newspaper in terms of quality, and have raised the bar for Indian journalism.
The display advertising rates for Navbharat Times are a bargain.
Through releaseMyAd's online ad booking portal, you can book your dispaly ads in Navbharat Times newspaper under various categories such as Business, Property, Public Notices & Tenders, etc.
By advertising with releaseMyAd, you get the full services of an Indian Newspaper Society (INS) accredited ad agency, access to the most economic advertising rates, a host of combo offers and unbelievable deals, and much more.
You can book your ads in 3 simple steps - 1) Choose ad category, location and supplement, 2) choose and upload your ad creatives, and 3) Select advertising dates and clear payment via a host of online & offline methods.
All payments made on our website is protected by SSL encryption, which helps keep unwanted third parties at bay, and ensures a good experience.
View Navbharat Times Ad Rates
View Navbharat Times Ad Rates
---
| Supplement | Category | Publishing Day | View Details |
| --- | --- | --- | --- |
| Court Notice | Court Notice | 0 | |
| Main Newspaper | Financial | All Days | |
| Business By Bids | Business | All Days | |
| Nbt Property | Property | Saturday | |
| Financial | Financial | All Days | |
| Public Notice | Public Notice | All Days | |
| Tenders | Tenders | All Days | |
| Appointment | Appointment | All Days | |
| Obituary | Obituary/ Remembrance | All Days | |
Booking Process
Navbharat Times Ad Booking Process
ReleaseMyAd (Authorised by Navbharat Times) provides you an integrated platform to check ad rates, circulation details, discount offers and book your display ads online for Navbharat Times instantly!
We are India's largest and simplest online ad booking service providers! Through ReleaseMyAd you can book Navbharat Times Display ads without any extra charges!!!
RMA is a trusted and authorized site for booking advertisements with an experience of 30 years in the field of Newspaper advertising. We have been accredited by the Indian Newspaper Society (I.N.S)- the primary governing council for all media publications.
You can Advertise under Matrimonial, Property, Obituary, Recruitment, Education or any other category in Navbharat Times under display ads formats:
Display Ads: Display ads are the most expensive and elaborate form of advertising. Such adverts have a great potential for creativity. Expert advertisers can upload the design of their advertisement in PDF/ JPEG/ EPS format and simply specify their requirements.
Know how to publish an advertisement in Navbharat Times under the category of your choice?
Select your Ad Type as Display to proceed to choose the category under which you want the ad to appear
Compose your advertisement with the help of our online enhancements and verify it via our exclusive Live Preview Ad Feature
Lastly just choose the preferred Release Dates & move ahead to clear the payments via our convenient online & offline mediums to receive instant confirmation.
The online payment mediums consist of Credit/ Debit Card modes and Net banking, while the offline options vary from Demand Drafts, Cheques and NEFT (Online Cash Transfer) to Cash Collection from home and offices.
On successful payment, you'll receive an invoice with all your ad booking and payment details. Your Times ad is ready to be published on the specified date(s) once it passes through the editorial approval policies of Navbharat Times.
For any more details and queries about Navbharat Times and the booking of your advertisement, please visit the Frequently Asked Questions section or Question & Answer Forum.
Chat with an Expert
Milan
Hi , Welcome to ReleaseMyAd!
Please let me know how can I assist You? Kindly select your type of query below
Me
My Query is related to
//cached//cached